The Cape Fear Pickleball Club is organizing a mixed doubles ladder league to start on March 8 and run through the end of May. Nineteen teams have already signed up to play. There is still room for a few more teams. Each team in the league is made up of one male and one female CFPC member (no age or skill level restrictions).  League games are to be played outdoors at Robert Strange Park (lighted) on either Tuesday, Wednesday, or Thursday evenings (probably 6pm start time).  There is a $5 entry fee per player to cover awards and occasional snacks.
If you played in last year's ladder leagues, the format will be familiar.  Teams can expect to play 3 or 4 games each week against other teams in the league.   Based on game results,  a team will move up or down the "ladder", and eventually end up being grouped with teams of similar skill level so the games each week are competitive.
Besides pickleb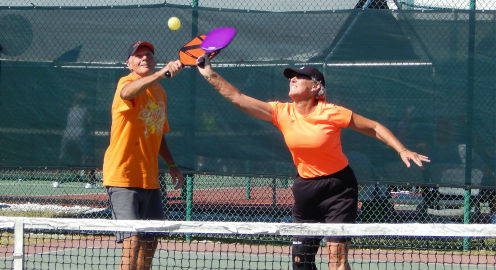 all, there is also a lot of social interaction among club members.  Players are known to frequent nearby bars or restaurants after league play for some good food and drink. Hope you will consider joining in the fun this spring!
If interested in joining the league, just send an e-mail to Mike Walz at mike.walz@hotmail.com. Due to limited court space, the league may be capped at 24 teams.  Substitute players are also needed, so CFPC members can sign up as subs if they'd like to be involved in the league but can't commit to a team.
Check out the Ladder Leagues page for full details and updates.
Any questions?  Contact Mike Walz at the above e-mail or (910) 599-4970.