Like tennis, pickleball can be played in a singles or doubles format.  But where tennis has a narrower court for singles play, the pickleball court stays the same size for both singles and doubles.  So with one player covering the whole court, singles pickleball can be quite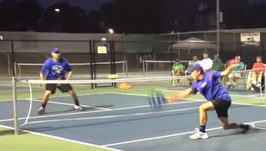 challenging and an excellent work out.  Also a lot of fun!
Mike Walz, CFPC Director of Competition, has set up a Singles Ladder League open to all CFPC members, male and female, to start on February 27, and to play every other Tuesday at Robert Strange Park through the end of May. The league will accommodate all skill levels. More complete details are available on the CFPC Ladder Leagues page.
If a singles league sounds like something you might like to try, or if you have questions, just send an e-mail to Mike Walz at mike.walz@hotmail.com.