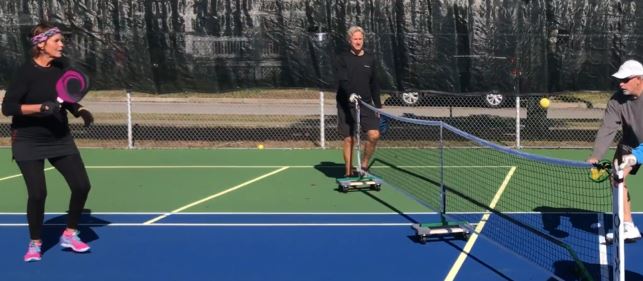 The Cape Fear Pickleball Club is participating in this year's City of Wilmington Holiday Parade.
Our club will be marching with two people carrying a club banner perpendicular to the street at the head of our group. Behind that, we will have two people rolling a pickleball net down the middle of the street, parallel to the street (see the photo showing the rigorous testing process). We will have two people on one side of the net, and two people on the other side, dinking the ball back and forth over the net as we walk along the parade route. We will have other people retrieving stray balls. We will have a car following the net and players, with its headlights providing light by which to play. The banner, the net, the car, and all of the marchers, including the players, will be decorated with battery-powered Christmas lights of one kind or another. Marchers will also be wearing club jerseys and/or holiday apparel. We will have holiday music playing. We are guessing that it will take us 45-60 minutes to walk the length of the parade route.
We have a number of people already signed up to participate, but are hoping to get plenty more, so that we can rotate people in and out of the various positions (banner-carriers, net-rollers, dinkers, ball-retrievers, etc). Also, we would like to have some people simply marching with their paddles and having a good time. If this sounds like something in which you would like to participate, please email Kevin Chandler, kchandler53@gmail.com, to be added to our list of participants and to be kept updated on any news related to this event. We think that it will be a fun time, and we hope that you will join us. There is no limit to how many marchers we can include.
The parade will begin at 6:30pm on Sunday, December 3rd. We will assemble well before that, at a time to be determined. The parade route is a straight march down Front St, beginning at Walnut St. and ending at Church St. The route is 3/4 of a mile long. The parade will be televised live on WECT's Bounce channel.
Here is the link to the City's webpage describing the parade.