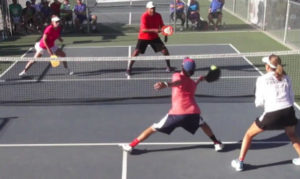 The CFPC Fall Mixed Doubles Ladder League has started. Building on a successful summer league, the fall league follows basically the same format, outlined below.
What: Outdoor mixed doubles team ladder league.
Where: Robert Strange Park courts (lighted), corner of 8th and Ann streets in downtown Wilmington.
Who: One man, one woman, on each team. Must be CFPC members. No age or skill level restrictions.
When: Tuesday evenings at 6pm. League started on Oct 3 and runs through Dec 12.
Cost: $10 entry fee per team. Fees will be used for league awards and/or social activities.
Description: Similar format to the summer ladder league that recently ended. For those unfamiliar, teams can expect to play 3 or 4 games (to 11 or 15) on each league night. Teams move up/down the "ladder" depending on game results, and eventually teams end up in groups with similar skill levels which makes for good competition on the courts. After league games are completed, many players often meet at a local bar/restaurant for a refreshing beverage.
If this sounds like fun, and would fit into your schedule, please consider signing up. If you are interested but don't have a partner, sign up anyhow and we may be able to find you one. For those who can't commit to every Tuesday evening, the league will also need substitutes, so you can sign up to be a sub. Any questions, call or e-mail Mike Walz at (910) 599-4970 or mike.walz@hotmail.com.
To sign up, just send the name of each team member, and contact information (phone, e-mail) to mike.walz@hotmail.com